5-11-2023, 22:19
Addon: The Amazing Digital Circus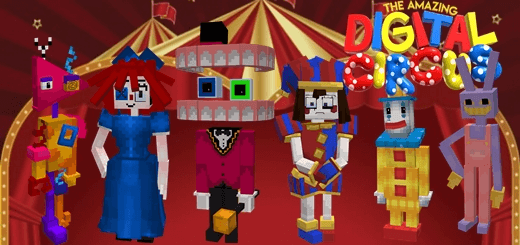 The Amazing Digital Circus Addon takes you on a rollercoaster of emotions and challenges, where you must work together with your newfound allies to overcome the AI's relentless torment.


Created By Yujiro5


Unearth a captivating storyline that unfolds as you explore this extraordinary virtual world, filled with unexpected twists and turns.
Meet a cast of memorable characters, each with their own personal traumas and secrets.

Pomni: A mysterious figure with a haunting past.
Jax: A brilliant but tormented mind, struggling to find redemption.
Ragatha: A lost soul searching for her purpose in this digital chaos.
Gangle: A survivor with an enigmatic connection to the rogue AI.
Kinger: A powerful force of nature, determined to unravel the AI's dark mysteries.
Caine: A conflicted soul battling inner demons.
Zooble: A quirky AI character with a penchant for mischief.
Kaufmo: The enigmatic rogue AI that serves as the central antagonist in this thrilling tale.